By Charlotte Biren – Communications Coordinator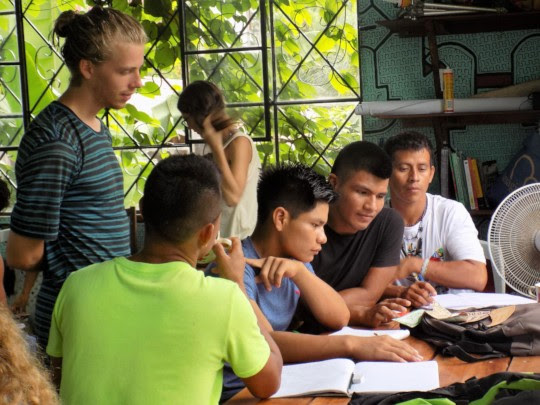 Project planning in pairs
It's a cloudy Saturday morning here in Yarinacocha, and our three Santa Clara Volunteers eagerly await the arrival of the Santa Clara Youth Association. After two months of getting to know the Youth Association and gauging interest in community led intiatives, the volunteers decided to bring everyone to Yarinacocha to host a workshop on Project Design and Planning.
These past months, the volunteers and youth have spent time together discussing community needs, evaluating potentials for alternative economic opportunities, and observing the interests of the youth in terms of project creation. The Youth Association brainstormed projects for reforestation, sustainable food sources, eco-tourism, and cultural preservation.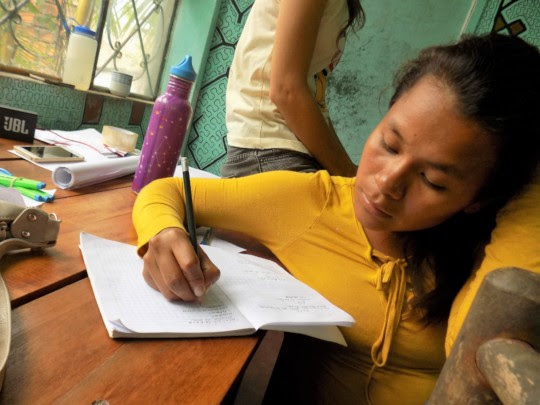 Rocio, 22, designing a project to sell her artwork
On Saturday, November 4th, the volunteers hosted an interactive workshop on Project Design and Planning at Casa AMETRA from 8am-3pm. There were approximately 20 youth from Santa Clara present for the workshop, with an even split between young men and women. Here the volunteers discussed strategies and best practices for creating community based projects. The youth all came to the workshop with a sense of the projects they wanted to see happen in Santa Clara.
Youth worked in small groups, in pairs, and in the whole group to think of their strengths, weaknesses, opportunities, and threats to implementing community based initiatives. Volunteers and youth also fraternized for a lunch in Yarinacocha where everyone got hang out with each other and get to know new faces. The workshop concluded with an interactive role playing game, where the youth engaged in conflict resolution strategies as they all pretended to be planning for their Anniversario, or Annual Community Celebration.
The volunteers were cognizant of how this initial workshop on project planning would be the beginning of a greater process of equipping the Santa Clara Youth Association with the skills needed to design and execute projects. Furthermore, the volunteers have been thinking of a greater community initiative on how to bring these technical skills to the community over a long period of time.
Our volunteer, Nepheli explaining steps to plans
As the year comes to a close, volunteers, interns, staff, and partners at Alianza Arkana have thinking critically about being involved in the Shipibo Communities we collaborate with for the coming year of 2018.
With that, we are currently evaluating our past work in Santa Clara, analyzing potentials for new collaborations in Betania, and analyzing potentials for new collaborations in Paohyan. We are thinking about our role as an NGO and about a collaboration that is led by our indigenous partners. As we move into 2018, we are excited to have more workshops, seminars, and educational events that provide Shipibo community partners with the skills and access they need to address community needs on their own.
We are excited to share our new plans for 2018 and to share ways to strengthen our alliance with Shipibo communities.